This short essay by Heinrich von Kleist advises a burgeoning early-nineteenth-century public to speak to others with "the sensible intention of instructing yourself" – in short, to talk not just about what you already understand, but to dive into conversation with zest and curiosity, with a thirst to learn more and question openly – to relish the pleasures of intellectual discourse, unsure of where it's headed.
Erik has printed this essay several times over the past 20 years, always in the original German with an English translation. Those modest brochures proved quite popular, especially with English-speaking audiences who are not that familiar with Kleist. When we ran out of all the different reprints and were looking for our first post-pandemic PAPER, we decided to celebrate by going full letterpress.
At p98a, we practice Preservation through Production. We set the type digitally, sending data directly to our laser (our invention, developed in-house), which in turn burns the type onto metal-backed polymer plates. These are placed onto a magnetic base in a Heidelberg Cylinder letterpress machine from 1954. This brochure has thus been printed from raised letters, just like the old days, except we did not set mechanical type from a hand-written or typed manuscript. That would be a nice nostalgic gesture, albeit not economically sustainable.
So we keep our old presses working, preserving the craft while not denying that we live in the 21st century.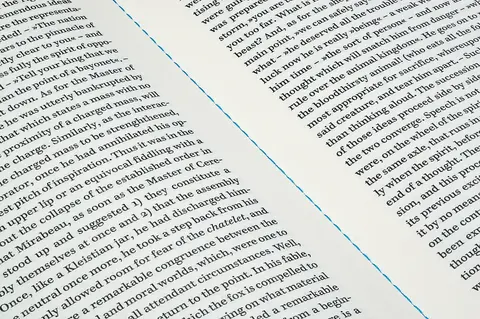 P98A PAPER is the work of Susanna Dulkinys, Erik Spiekermann, and R. Jay Magill. This issue is a result of our cooperation between our workshop, P98A, and TOC, The Other Collection.
We printed a limited run of PAPER#9. Letterpress by Daniel Klotz at Die Lettertypen on a 1954 Heidelberg Cylinder press. Sewn with blue yarn.
Buy it here.